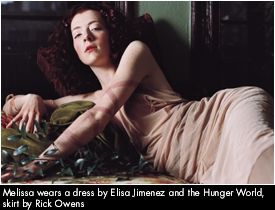 E ven the notoriously press-hungry Courtney Love is willing to share some of the spotlight with Melissa Auf der Maur. It's a smart move. The Hole bassist is just too cool to ignore. Everyone who's known or worked with her, from ex-boyfriends to makeup artists, Rufus Wainwright to Billy Corgan, will tell you she's a good egg, not to mention major rock star material. The talented and beautiful 27-year-old Montreal native has a genuine kindness and curiosity about the people she meets that, combined with a passionate drive to create, make her naturally charismatic. She's more than able to hold her own in a band fronted by Love. Her fierce rhythm helps drive Hole's sound, while her angelic vocal harmonies sweeten the blow of Love's cruel voice and lyrics on Celebrity Skin (Geffen). After five years with the band, Auf der Maur is starting to be recognized on her own as a stylish and approachable girl-about-town.
She moves easily from a Harper's Bazaar shoot with one of her favorite designers, Olivier Theyskens, to the Vanity Fair Oscars party (where she watched in awe as a dancing Monica Lewinsky tripped over a monitor), to any of her favorite dive bars in New York and Los Angeles, hanging with everyone from Ben Stiller to Shalom Harlow, whom she counts among her many friends.
The lithe redhead was bred for the rock chick life. The daughter of politically active parents -- her mother, Linda Gaboriau, was Montreal's first female rock DJ; her father, the late Nick Auf der Maur, was a well-known writer, radio personality and radical politician -- she learned to love people and "old man" bars at an early age. When she was 18 months old, her mother took her to Europe, Morocco and Kenya, where they lived in a hut with a friend who was studying chimpanzees. She recalls a family folktale about an African prince's wanting to marry her mother so he could make the redheaded child the tribe's weird white princess. "That opened my mind to freaky situations, traveling and being an alien," she says with a smile. Looking at the photos her mother would bring home from interviews with the likes of Frank Zappa and Ken Kesey, the young Auf der Maur was attracted to the world of rock because "it's a weird lifestyle of a traveling microcosm," she says, "a strange political system that treks the land and spreads its experiences and its word like an old nomadic tribe." She attended F.A.C.E., an experimental performing-arts school she fondly refers to as "the hippie version of the Fame school" with fellow friend and "underdog freakie" Wainwright. A trained pianist, trumpet player and choir singer, she decided to teach herself bass at 19 after having a weird dream about the band Kyuss (now Queens of the Stone Age). When she asked the guys in the local punk bands if she could jam with them, they asked if she could play. "No," she said, "but I'm going to be good."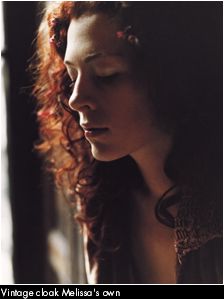 A year later, she formed Tinker with her boyfriend. Together they wrote no more than 10 songs (most about what she calls their "tortured love relationship") and performed six or seven times in front of about 20 people before they were asked to open for the Smashing Pumpkins in Montreal in 1993. Lead Pumpkin Billy Corgan, impressed by the bassist's skill and stage presence, told her, "You've got it." So when Hole bassist Kristen Pfaff OD'd shortly thereafter, Corgan told Love about the cool Canadian. "I feel bad -- I've said it a million times, and it's not like I'm trying to remind anybody, but I did say no," Auf der Maur says of her initial rejection of Corgan's offer. "I had my boyfriend. I was in my last year of university. I wanted my life to myself." But Corgan grilled her about her real goals, which was followed by a call from Love instructing her to "Get your ass over here! Come meet us," Auf der Maur recalls. "On the plane to Seattle, I was like, this is my life taking one of those radical turns I thought it would. From that day on, everything changed."


Two weeks later, in September 1994, she joined the band on its Live Through This tour, appearing nightly in front of 65,000 people. "I don't even know how I learned the songs, but I didn't make one mistake," she says, still amazed. "I was just determined. I didn't know how to play other people's music, and I'd never played a cover. It was definitely one of the biggest crash courses in my life." After the 18-month tour, Hole took six much-needed months off before setting to work on their "California" album, Celebrity Skin. Except for two numbers, every song on the album is a collaboration between Love, Auf der Maur and guitarist Eric Erlandson, written over the course of an admittedly intense but rewarding year studying the craftsmanship and discipline of bands like Led Zeppelin, Fleetwood Mac and the Beach Boys. Auf der Maur also got a chance to write, record and tour with Ric Ocasek for the Cars comeback tour last year. She's very proud of the harmonies she wrote for Celebrity Skin, which draw on her choral training. "I worked my sweet little ears off on those," she smiles. During our conversation, she uses the term "angel in the background" to refer to her complementary singing, both with Tinker and Hole. In the latter case, you can't help but wonder if it's an unconscious allusion to the devil up front.


Auf der Maur is a big believer in fate, and the way she describes it, it had a hand in bringing her together with Love. Her first experience with the singer was a tiny Montreal punk club where Hole were playing on the Pretty on the Inside tour. Auf der Maur was flirting with the roadie and, as she often did, invited the band to crash at her place. "As I was leaving, Courtney yanked my arm and said, 'Are you the girl flirting with our roadie? Fuck him. We're all sexually frustrated. At least he'll get some.' And I chickened out," Auf der Maur says. That year, she took a Greyhound to San Francisco to stay with squatter friends and see Nirvana with Pearl Jam and the Red Hot Chili Peppers on New Year's Eve. While shopping for something to wear, she fell in love with a baby-doll dress in a vintage store window but couldn't afford to spend the 20 bucks. Later, she and a friend managed to talk their way into the sold-out arena show by saying they were on Nirvana drummer Dave Grohl's guest list. At the after-party, who should show up on the arm of Kurt Cobain -- "the most beautiful man in rock at the time," according to Auf der Maur -- but Courtney Love...in the baby-doll dress. "Later, when I told her that story, she says she remembers that day and she felt like she could spend $20 on a dress," says Auf der Maur. "She knew her new life was coming."
Although Auf der Maur is refreshingly candid during our interview, she weighs her words about Love carefully. It's clear they have a strong bond. "I think we're both really similar in terms of believing in fate and destiny and the characters coming into your life being very significant as someone you know you're supposed to learn from," she says. "We value each other that way. We're both really community minded, family oriented. Maybe because we're ladies, I don't know, but we share an appreciation of working together and helping change the face of women in rock. I know we're changing something." Asked if she ever wishes she could say more in band interviews, she laughs. "I've never been impatient and wished I could talk more, that's for sure," she says. "I'm a bass player. It's very natural for me. It doesn't mean I won't grow into other things, but I'm very comfortable. I really honor the role I have in this band."
Courtney Love seems to honor Auf der Maur, too. "Melissa is a goddess," she says. "She is the best partner in crime/rock star in the world. She is the most stylish woman I know and a great musician."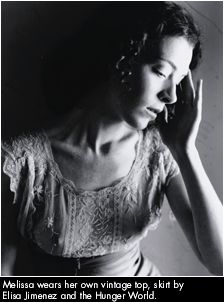 As most music followers are aware, Hole hooked up with longtime friends Marilyn Manson to support Celebrity Skin, ready to make some money after living off their record advance for the four long years between albums. The tour broke up after just two weeks. While the press attributed the rupture to the nasty back-and-forth between Manson and Love ("Did you guys have time to take a nap during Hole?" Manson asked the Seattle audience), the reason was strictly financial, according to Auf der Maur. "We were traveling with a huge production that wasn't ours, and we were carrying half the burden of that," she explains, referring to Manson's elaborate stage show. "And on top of that, there were some, uh, weird vibes coming from them, even though it was part of the shtick, like, 'Let's be two cartoon characters!' And Courtney was being manipulated into, like, 'I'm a superbitch wrestler' against Manson, which she was definitely not planning on participating in." As for Manson's taunts, Auf der Maur laughs. "I don't know where that came from," she says. "So immature! He was like a little boy pulling pigtails. We definitely didn't take it too personally. He means no harm." Last month, Hole embarked on a more "personal" U.S. tour, which will be followed by summer dates in Europe and Canada.


Though the band sucks up most of her life, Auf der Maur makes it her mission to explore as many mediums as possible, both as a creative outlet and as a way to document her life during this wild ride, with hopes of sorting it all out later. When her mother introduced her to photography as a teenager, she says, it became her "outside, sacred form of communication" in counterpoint to music. As she began to study photography in college, however, music took on the sacred role, and Auf der Maur quickly found her main photographic subject: herself. She pursued self-portraiture not out of vanity but as a visual diary, a way to find clues to help her piece together the puzzle of her life (a phrase she uses often). Today, snapshots help her to frantically gather memories -- much in the way she saves every single answering machine message. "Right now, I'm just collecting a lot of images and sounds, and when I have time, I'll glue the pieces together," she explains, laughing. Now that she's on the road again, she loves taking pictures of fans. She has generously brought along a huge bag filled with photos, books and articles to share and illustrate her life. She shows me frames of blurry fans, of the "half crow faces, half barrette girls" crowd on the Manson-Hole tour. There's Erlandson smiling goofily before thousands of fans with their arms raised, Love shot from behind, lighters dotting the darkness before her like something out of Close Encounters. "I know I'll learn so much when I go through these photos," she says, flipping through the book. "I'll see the secret of what people are getting out of this band."
Music also helps Auf der Maur capture the memories that threaten to escape. She travels, she says, with a Dictaphone and a four-track recorder so she can put down "textures" of her experiences, such as the wind blowing. She also records her own "abstract, deconstructed art rock," pushing and distorting her voice to eerie extremes, as a relief from her poppy Hole harmonies. She says she would love to score a film, especially with Tim Burton or David Lynch, adding with a sly smile, "Those guys are right up my alley."


Since the worlds of fashion and music have formed a mutual admiration society, it's only natural that the clothes-loving Auf der Maur has been receiving so much press lately for her love of avant-garde designers like Elisa Jimenez, Michelle Mason, Rick Owens and Olivier Theyskens, whom she supports and sees as peers. During Hole's recent London press trip, for instance, she sneaked off to Paris to walk in Theyskens' show; she also appears in Michelle Mason's fall catalog. Fashion honchos have wisely begun to seek her out. She will appear in Calvin Klein's cK campaign this summer with rockers like Jon Spencer, Kim Gordon and Shirley Manson. And, of course, she and Love are coddled by Donatella Versace, who, Auf der Maur says in a sexy fashionista voice, "takes verrry good care of us," as she points to a picture of her and Love in front of the Versace jet, en route to Milan.
"I've always been a vintage collector," says Auf der Maur, who feels a strong affinity with past eras and dreams of appearing in a period film (if only for the wardrobe). "It's the purity of having a piece no one else has." Explaining the clothes that threaten to overtake her tiny Hollywood Hills "dollhouse," she says they support her "desire to use all vocabularies to express almost the same thing. I feel that it's really important to express the matter of the heart through words, sounds, visuals, clothes, moving pictures, love relationships -- it's all coming from the same place." The shoes are another story. "I used to say there was a principle behind my 70's uncomfortable platform fucked-up hooker boots, and it was because I wanted to feel every step I took and didn't want to take any step for granted." She rolls her eyes and laughs. "I tortured myself and thought that would make me more aware of living or something." When a fire broke out in Erlandson's dressing room (in the same venue where she saw Love in the $20 dress, she adds, making a new connection), Auf der Maur sheepishly admits, she grabbed her diary -- and her custom-made Michelle Mason boots.
For our interview at L.A.'s trendy Sunset Marquis hotel, she wears a plum wool shawl over an artfully slashed green velvet Elisa Jimenez top, snug jeans, cork platform sandals (which she later trades for flat Chinese slippers), python cuffs ("It's a superhero thing," she says, crossing her arms ˆ la Wonder Woman) and a necklace that says "#1 Friend." With her wild red hair and pretty, freckled face, the effect is more sexy art teacher than rock star. The hotel staff stare, and an 82-year-old movie producer named Bob sees the tape recorder and yells over to us, "Is that an interview? Yeah? O.K., hire her! I like her."


Besides having the Cult's Ian Astbury sing "She Sells Sanctuary" to her in front of 40,000 people during her first tour with Hole, Auf der Maur says, "being able to make a living being myself" is the most amazing thing about her success. "Holy shit!" she marvels. "That's quite a feat." It also allows her to meet new people. "I just love people and learning about the way other people live their lives," she says. "There's no better way to see that than to see the way they socialize." She makes a point of having at least one good conversation with a new person whenever she goes out, which is often. "Basically, I look very far into every conversation I have with every person I meet," she says. "I just see it as all these puzzle pieces directing me to my place." Asked what she's learned during the last five years, she pauses, then says, "I've learned a lot about sad people, so compassion is a huge part -- an essential ingredient that I've always had that's become much more active as I get older. And acceptance. Huge amounts of acceptance for all people's faults. I grew up with freaks, so..."
When told that people call her a good egg, she beams. "Oh, that's good. That's essentially the point. I'd like to be a nice person that can offer happiness to people's lives. I like to hear that. Thank you very much. I like people," she smiles.
Asked about her future, Auf der Maur talks about Hole's summer tour. When the question is broadened to the next five years, she says she'd like to focus more on photography and hopes to do an independent musical project -- "It could be anything from a film score to a home four-track album to something intimate and mine. I'm not in a rush to do anything, because I know I'm planting the seeds. That's me and Molly [Stern] dancing to Sabbath," she says, pointing to a photo of the pair getting wild in a cabin in the Canadian woods.
Eventually the photo show ends, and Auf der Mar heads back into the California sun. Two minutes later, my phone rings. "Hi, it's Melissa. I'm downstairs waiting for my car." (A mint-green '69 Cougar.) "I just realized that everything I just said -- about an intimate, independent project -- that could be a baby..." She laughs with surprise and says good-bye, happy to have fit another piece in the puzzle.