NICK: A MONTREAL LIFE
Nick Auf der Maur
"Nick was a cherished friend. An original." --Mordecai Richler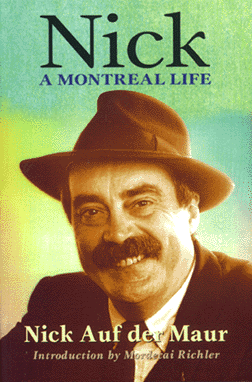 A collection of Nick Auf der Maur's best columns with an introduction by Mordecai Richler. Includes over 20 caricatures of Nick by Aislin and photographs.
Among Nick's friends who contributed anecdotes to this collection are Warren Allman, Benoit Aubin, Hubert Bauch, Conrad Black, Margaret Davidson, Josh Freed, Allan Fotheringham, Leon Harris, Oliver Irwin, John Lynch-Staunton, Margo MacGillivray, Brian McKenna, Robin McKenna, Terry Mosher, Brian Mulroney, Nathalie Petrowski, Mark Phillips, Stephen Phizicky, Juan Rodriguez, Mark Starowicz, Brian Stewart, Dr. Roger Tabah, Lisa Van Dusen, and Anthony Wilson-Smith.
432 pages $19.95
Available for sale in bookstores or can be ordered from Paragraph Bookstore.