Thursday 9 April 1998

Aislin remembers Nick

The Gazette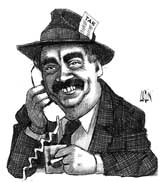 This is a selection of favourite cartoons from the dozens I've drawn of Nick Auf der Maur over the past 30 years. (I couldn't find my all-time favorite - one where The Gazette reported that there were 12 political parties in Quebec and that, the cartoon noted, Nick had belonged to 16 of them.)
In the late 1960s, Nick and I deliberately met in a Crescent St. bar called the Boiler Room because people we both knew had been insisting that we get together. As a result, those being cantankerous and self-indulgent times, we were both prepared to hate each other.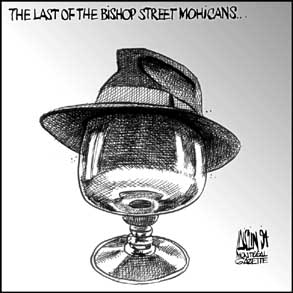 We didn't. Indeed, we got very drunk and I had no idea at that time that I would become Nick's official cartoonographer. We became fast friends, leading me to become his best man at his wedding.
After organizing a demonstration (in my basement) against The Gazette, Nick and I became involved with a group of people who put out a left-wing magazine called the Last Post. However, after a memorable trip to Cuba together in the mid '70s, we were both to shed many of our leftist sympathies.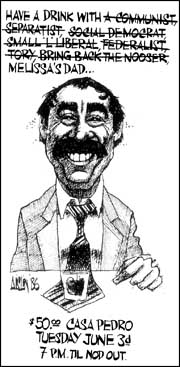 In the mid-1980s, dealing with my own demons, I began the long process of sobering up, which meant that I began seeing a lot less of Nick, although I continued to cartoon him at will. Eventually, it worked to the extent that I didn't miss the drink any more.
But I missed Nick. I still do, actually, and always will. For, in my mind, he had come to represent all that was wonderful and uniquely weird about downtown Montreal.
Hector Berthelot, a celebrated journalist, illustrator and boulevardier here in Montreal in the late 19th century, was, like Nick Auf der Maur, a true character who always was finding himself in trouble. Whereas the English had their 4 p.m. tea, Berthelot invented the French tradition of the 5 p.m. gin (which evolved into the current happy hour).
When he died, Berthelot willed a small amount of money to his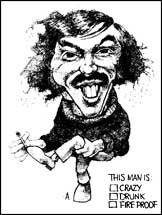 favourite bar for those who managed the long walk up to his burial in the Mount Royal cemetery and back again, to raise a glass. Notorious in his time, Berthelot is virtually forgotten today.
We can't - won't - let the same thing happen to Nick Auf der Maur. At the very least, Crescent St. should be renamed la rue Nick. God knows, the barkeeps in the area owe it to him.
- Terry Mosher (Aislin)