The Guest Book
I would hope that visitors may choose to use this as an opportunity to tell Melissa Auf Der Maur how much we love, respect, appreciate and support her and her works, and wish her every success with Hole or whatever else she may do in the future. After all, there is always the possibility (though admittedly very slim) that some day she may herself see it, by means of some convoluted series of events Doctor Rock cannot even begin to anticipate or comprehend.

&nbsp
Note !
I'll just appologise in advance to anyone who might be shocked by abusive matterial that may be placed here. It is inevitable on any site and I usually remove it before anyone sees
But be warned that you may see this guestbook before I have had time to delete anything alarming.
I'm confident that if you have made it this far into the net, you've seen it all before anyway.

---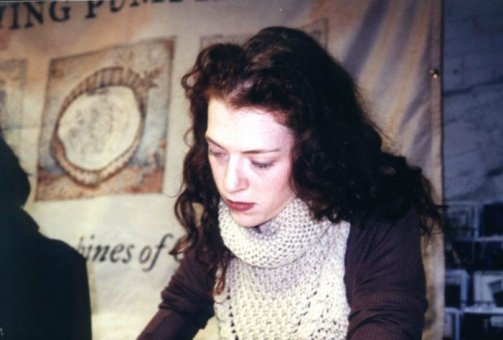 &nbsp
---
Caution, I have a Babelfish. The Altavista Bablefish is sufficient for Doctor Rock to be able to understand postings in french.
Attention, j'ai un Babelfish. L'Altavista Bablefish est suffisant pour Docteur Rock pour pouvoir comprendre des postings en français.
---
&nbsp

[ Main Page ]
---
---
your the most beautiful woman alive!your solo albums great.i think your an amazing poet and artist with a great voice.are you ever going to play in ireland?
j. molloy
dublin, ireland - Sunday, November 20, 2005 at 02:07:34 (EST)
---
music is pretty sweet i have no problem with that, but the name or cd title whatever auf der maur is wrong. for one maur isnt a word, mauer = wall and if u wanted to say on the wall (on top) auf der mauer is what it should be. if your gonna speak in different languages get it right
Aaron
Ink-town, MI USA - Thursday, October 27, 2005 at 16:51:06 (EST)
---
melissa..you're the best of the best...i love you!!!!!!! your album and yours songs are..fantastic...
rossella <***@***>
cassano, italy italy - Friday, September 09, 2005 at 22:11:04 (EST)
---
Wow. My good friend and I were brainstorming on what singer/band to get dressed up as for a friend's themed party (rockstars) and she suggested she go as Courteny Love, and I go as Melissa Auf Der Maur...who is that I asked. All she knew was that Melissa was the bassist for Hole, but once I did some more research I discovered not only that she is in the Pumpkins, (ofcourse, I just knew her as 'that girl in the Smashing Pumpkins') but that she has also gone solo, and I was thoroughly impressed with her music, it is awesome! This site has been most helpful, it's the best one I've come across, apart from her official site. I've just been listening to some of her solo stuff, it is truly inspirational. I'm a musician myself, mostly guitar (acoustic and electric), its funny though, just before my friend told me about Melissa, I'd started mucking around on bass. I've also been singing my whole life, and writing songs since I was about ten (i'm now 17) I will most definitely go out and buy her solo album (real, a lie is awesome, I love it!!) It's also fantastic to see a female solo artist who doesn't have to sing pop, or stick to so called 'chick music' acoustic ballady stuff (not there's anything wrong with that) A lot of guys don't take girls in this style of music seriously, Melissa is testament to the fact that girls can indeed ROCK OUT!! So thankyou Melissa for being who you are, and to the makers of this site for all the info on Melissa, oh and letting me blab on, and on, and on.... Hey, and if you wanna see how I end up looking for that party, which is in three days (friday) you can email me and i'll send you a pic. Or you could go to my msn space where photos will be posted.
Melea <***@***>
AUST - Tuesday, August 30, 2005 at 12:25:15 (EST)
---
www.evandandoandthelemonheads.com has great video and audio downloads every week !
MAX
- Saturday, July 16, 2005 at 00:39:09 (EST)
---
Melessa, I am a bassist as well. I bought your solo album and I love it!!! I hope that you do some more stuff soon. I think that you are the most beautiful rocker in the industry and have a wealth of talent. Thank goodness that Billy Corigan found you. I read the article in bass player and it was very informative. keep up the killer work. If you would like, My band is called red#9 and our web address is red9.bandhost.us/index.php we have some music on it so you can check it out. our web master is willis or better known as cyber cowboy. he has done a lot of writing of programs used frequently on the net I guess. anyway, check it out and tell us what you think. Love ya lots
brandon hinshaw <no e-mail at this time>
omaha, ne USA - Monday, February 21, 2005 at 10:45:22 (EST)
---
My God she's beautiful. Like a young Lauren Bacall, only prettier. That whole smokey sensuality thing. Love the spooky vibes and the horoscope. Music's good, too. Saw her on Letterman recently or some such show. My favorite pic is a small one, the one of her playing bass in a green sweater. Yum yum. Wow.
Tip Swollenshaft <***@***>
Big, xy USA - Monday, January 10, 2005 at 00:52:01 (EST)
---
she's the most beautiful woman i've ever seen. is there any way she emails her fans? absolutely love her in the video celebrity skin. any chance to have a hole reunion?
mike
watertown, wi USA - Friday, January 07, 2005 at 21:18:47 (EST)
---
I have only experienced this artist through the 'net. Her music style and such proves that she feels deeply about her music and that is refreshing when compared to the Xeroxing of todays "music and musical stars". Keep going dear lady for there are many of us out hear deeply in need of you.
John D. Hendrickson
Oklahoma City, OK USA - Friday, January 07, 2005 at 16:07:36 (EST)
---
I just saw her 2 nights ago open for a band i went to see and WOW she i amazing just amazing she was talking to us and everything so was her band i was so surprised she is a great singer
Monique
Winnipeg, Canada - Saturday, October 23, 2004 at 04:50:30 (EST)
---
I Love Melissa! I've seen her live twice and met her once! This is a truely amazing shrine!!
Chuckers Muckers
Oxford, UK - Friday, October 01, 2004 at 06:34:36 (EST)
---
Oooh - she's lovely !
Og
USA - Wednesday, September 08, 2004 at 08:50:38 (EST)
---
Michelle, contact me! E-mail address that I had is no longer valid. Melissa, if you see this, tell her please?
cia19
Moscow, - Thursday, July 29, 2004 at 08:29:49 (EST)
---
Hey, Great site. Auf der Maur the album rocked. I think she should get together (maritally) with josh-unless he's married, I don't know. All in all well done. bye, adrian
Adrian O'Sullivan
manchester, - United Kingdom - Saturday, July 03, 2004 at 21:45:39 (EST)
---
Hey!! Just wanted to say i love your new album! Fantastic!
Missy Young <***@***>
Faribault, MN USA - Thursday, June 24, 2004 at 07:05:26 (EST)
---
I think that melissa auf der mar is amazing!! she talks about making sound her life so wherever she is a wanna thank her for making sound my life!! you rock hard!! plus your from canada!! ps: when is she playing in winnipeg??? soon i hope!!! keelin
keelin
Winnipeg, MB CANADA BABY! - Sunday, June 06, 2004 at 04:48:09 (EST)
---
I think the songs of "Auf Der Maur" are really good but I'm sorry to say so but she can't sing in live exibitions!!! :(
Valentina
Salerno, Italy - Friday, June 04, 2004 at 02:47:42 (EST)
---
melissa is spiffy!!!! sod courtney love, melissa was the star all along and her new album is proof of this fabulousness(thats a real word of course). hopefully i'll get to see her at leeds festival(UK) this summer and if im lucky steal her clothes. farewell children. E x hugs and snogs elinor
elinor
uk - Friday, May 14, 2004 at 01:30:44 (EST)
---
I LOVE MELISSA,I DREAM MELISSA,I LOVE YOU,MELISSA TALK WITH ME,PLEASE.
BASSISTA ITALIANO
ITALIA - Tuesday, March 16, 2004 at 08:27:41 (EST)
---
Hola Melissa,siento mucho no saber el ingles pero me pense,el por que no,lo unico que quiero decirte es que soy un gran fan de tu estilo como tocas el bajo(Bass) he incluso yo personalmente me dejo inspirar de ti ya que yo tambien toco el bajo en mi grupo "LIVECAM).Mis observaciones y mi oido te persiguen desde que empezaste a tocar con "HOLE"hata el dia de hoy y creo que no dejare de seguirlo,gracias por todo y quien sabe igualmente tengamos algun dia un encuentro para que me des un autrografo O.K.? Saludos de un espanol en alemania. Lobo
Juan (Lobo)
Düsseldorf, Germany - Monday, February 23, 2004 at 22:57:05 (EST)
---
Last night I dreamt about Melissa. We got together, and she was very sweet and nice... *sighing*
Anders
Linköping, Sweden - Sunday, February 01, 2004 at 07:19:10 (EST)
---
i just wanted to say how much i love melissa and her music. i'm happy to see that she's doing what she loves and that she decided to share it with the world... it doesn't hurt that she's hot as hell to. i'm excited to hear she has a new album due out soon. i'm sure it's gonna be "the shit" she's had alot of people contribute to it, so it bound to be great. love ya Mel. -joe-
Joe...
weslaco, tx. USA - Friday, January 23, 2004 at 05:55:02 (EST)
---
I'ma young journalist/promoter/singer and I've to interview Evan Dando in two days. I just want to say The Virgins are impossible to get info on. Anyway ride the tyrants through the waves of sound!! Denis.
Denis O Gorman
Limerick, none Eire - Friday, November 07, 2003 at 01:48:37 (EST)
---
I love your site - please keep up the good work!
Samantha Williams
USA, none USA - Sunday, February 16, 2003 at 00:10:29 (EST)
---
Mellisa is my favourite bass player, she is very beautiful....I love her.
Michal Hluchy
Hlohovec, Czech Republic - Wednesday, June 12, 2002 at 07:49:45 (EST)
---
Hi, nice site. The best I've seen about Melissa. I'm going see her new band Hand of Doom here in Montreal at the end of the month I can't wait!!! It's a pretty small club I don't know why she's going to be playing at such a small club in her hometown.
Cheyenne
Montreal, Canada - Tuesday, June 04, 2002 at 14:55:21 (EST)
---
suuuper!
henning oft
olpe, nrw FRG - Tuesday, June 04, 2002 at 05:16:47 (EST)
---
Mellisa is a beutiful and very intrested woman. I like as she play and as she is. I love her.
mcpowel
Hlohovec, 042 Czech Republic - Monday, June 03, 2002 at 01:19:40 (EST)
---
Mellisa is the godies. I love her. She is very intrested woman. She is my blood type.
Michal Hluchy
Hlohovec, Czech Republic - Monday, June 03, 2002 at 01:17:56 (EST)
---
I just wanna say, that Melissa is very beautiful ,and she's my favourite bassist, not only from Hole, but I think that she is just the greatest.She have very beautiful voice,and she is all beautiful. And I think, that this site is brillant.
Wiewiura
Cracow, Poland - Tuesday, May 28, 2002 at 23:56:18 (EST)
---
wow. i just happened to come across this site, and i couldnt leave without letting you know that you have a fabulous collection in your gallery.
ÆNTITY
USA - Sunday, April 07, 2002 at 11:00:35 (EST)
---
Great site about great bass player and very very attractive girl! It was a real pleasure for me to find it and look through all the things which are here. I love Melissa. Hope we'll enjoy her playing again, solo or in some band. And people... you won't believe, but... I missed Smashing Pumpkings show in Moscow in most stupid way, when they were here!! Poor me ;(( I've heard that show was excellent. Well.. Best regards to Melissa! Keep being cool. Thanks to webmaster!
cia19 <***@***>
Moscow, Russia - Friday, April 05, 2002 at 01:34:39 (EST)
---
Dr. Rock ... Wanted to let you know that Melissa is my first cousin and I am onored to see such a beautiful web-site dedicated to her. Next time I talk to her I am going to inform her of this web address adn have her check it out!
Michelle <***@***-ns.com>
walpole, M USA - Tuesday, March 26, 2002 at 04:28:02 (EST)
---
Miss I want to tell you you are looking beautiful.Would you like friendship with me?I am 20 years old handsome boy from pakistan.I hope you will mail me. ***@***
jamshaid khan <***@***>
Rawalpindi, pn Pakistan - Saturday, March 23, 2002 at 19:39:00 (EST)
---
your site is beautiful!!!! i love it!! thank you!! well, like all of you, i adore melissa, she's my favourite bassplyer and even my favourite musician... i discoverd her with hole and then with the smashing pumpkins, and i 'll always love her! she 's so talented, so beautiful, and seems so nice... well i love her... i hope she'll sing in her new band with james iha, evan dando and ryan adms (The Virgins) 'cos she's got a beautiful voici, an angelic voici;; melissa is an angel.. well, i'd like to find cds of her first band tinker, but they're not sold in france.. so if someone have them and want so make a trade, i'll be melissa's happiet french fan! please mail me at ***@*** well, bye peace and love
ellen <melly_auf_der_maur>
Paris, France - Saturday, January 05, 2002 at 23:41:32 (EST)
---
Melissa is the best female musician I have ever seen. Her talents are multi-dimensional and she is a very nice person. It's a shame that her stint in Smashing Pumpkins was cut short by the bands breakup. I hope that she finds a new band, and I wish her continued success.
Bob Hinreich <***@***>
Ames, Iowa USA - Friday, January 04, 2002 at 13:49:54 (EST)
---
please consider playing bass in our band
John
USA - Wednesday, January 02, 2002 at 16:39:37 (EST)
---
Melissa is the most beautiful,talented and charismatic female musician in the world... I adore her. But unfortunately she has a relationship with Dave Grohl. Anyway, as a Nirvana and Foo Fighters fan i'm cool with that To see this many people writing so many nice things about her just makes me happy. So keep doin' it.....
Mehmet <***@***>
Ýstanbul, Turkey - Saturday, December 22, 2001 at 10:35:11 (EST)
---
I know that Melissa done a solo album!someone know the title of this album???please, if you know it, sendo me an e-mail....excuse me for my english but I'm Italian....THANKS
Shirley <***@***>
Roma, italy italy - Thursday, December 20, 2001 at 08:21:54 (EST)
---
i'm a big italian melissa's fan!I LOVE HOLE!!!!!!I LOVE MELISSA!!!!!!!!!!!!!!!!!!
Shirley <***@***>
Roma, italy italy - Thursday, December 20, 2001 at 08:18:13 (EST)
---
it's nice to see someone so devoted to melissa...she is an talented musician and an amazing person...
rachel <***@***>
london, ontario canada - Saturday, December 15, 2001 at 14:17:28 (EST)
---
This site about Melissa Auf Der Maur is very individual and informative. Sites like this keep the internet alive! Thank you! Some pictures of Melissa can be found on my german Smashing Pumpkins fan site at www.billy-corgan.de Rock on! CHERUBROCKER
Achim Bihr <***@***-corgan.de>
Abtsgmünd, BW Germany - Saturday, November 24, 2001 at 06:18:35 (EST)
---
te b>Greetings melisa I am gabriel of mexico and alone I mean that you are the woman but beautiful of the world and ademas touch the under stupendously well.
gabriel perez <***@***>
mexico, df mexico - Wednesday, November 07, 2001 at 01:51:25 (EST)
---
Hey Melissa,I just want to say that you are very beautiful. I didn´t see you on a Hole or SP show but I hope that I can see you soon in Germany. In 1999 I was backstage at a Foo Fighters show in Hamburg, at this time I didn´t knew that you are in a relationschip with Dave,so I hope I can see you onstage with the Foo Fighters some day. Bye,Frederic. www.Frogstone.de
Frederic
Salzgitter, Germany - Friday, October 19, 2001 at 21:33:06 (EST)
---
Please wait for me...........................................................................................................................................................
Coke
Madrid, Spain - Wednesday, October 10, 2001 at 04:23:03 (EST)
---
This site is vraiment INCROYABLE,don´t ever EVER stop working on it, I command you ( take this seriously, I´m wearing my black leather corset) Any chances of Melissa coming to play in Europe? (mmm...j' crois pas)Salut tout le monde.
laparisien <***@***>
Madrid, Spain - Sunday, September 09, 2001 at 12:08:44 (EST)
---
Wow....your such a beautiful woman....I admire you for what you are doing.....you are a great inspiration to me when I make my own music....hugs erika from sweden
Erika <***@***>
Sweden - Wednesday, September 05, 2001 at 04:46:02 (EST)
---
Just have to say that I admire You Melissa and that you are so beautiful....hugs erika
erika
USA - Wednesday, September 05, 2001 at 04:38:13 (EST)
---
Rock on! :-)
Inspirational Posters
USA - Monday, August 20, 2001 at 23:24:33 (EST)
---
I just have to give you a big round of applause because this is definetely the absolutely best melissa page!!And believe me I searched a lot!So plzzz keep on rockin'!!!
Veruca <***@***>
..., ... ... - Tuesday, July 24, 2001 at 21:58:35 (EST)
---
I just wanted to say that this site rox! plzzzz dont shut it down!! much love x x x x
Kris <***@***>
United Kingdom - Thursday, July 12, 2001 at 05:59:29 (EST)
---
i dunno what other female has the looks like melissa, she turns me on, a woman that can play a mean bass... what is melissa is doin now.....does anyone know?....i think there is a solo album thing happening with dave grohl's help,
gareth <***@***>
holywood, co.down Northern Ireland - Wednesday, April 18, 2001 at 03:23:17 (EST)
---
hey melissa, and fellow fans! I love this site, I'd have to say it's the best website on Melissa that I've seen in a long time. THANX =*D oh!...p.s.CANADA KICKS ASS!!!!!! I AM CANADIAN!
Colleen Powell <***@***>
.....in Olympiaaa-ya-ya-ya-ya-ya....., CANADA!!!!!! - Friday, April 06, 2001 at 09:50:16 (EST)
---
i found a song by melissa af der maur and its called love is the drug i found it on napster you gotta check it out its great
amanda <***@***>
forty fort, pa USA - Friday, March 23, 2001 at 11:02:29 (EST)
---
Happy Birthday Melissa Auf der Maur !!! I love you !!! I know I´m 3 days late but I couldn´t get in earlier
Alva <***@***>
Swisttal, Germany - Wednesday, March 21, 2001 at 05:20:15 (EST)
---
happy birthday melissa!
Amanda <***@***>
forty fort, pa USA - Monday, March 19, 2001 at 04:12:10 (EST)
---
I love what youve done with your site. you truely have all thats needed about Mellissa she has great tallent and I cant wait for more music!!
Liz Atkinson <***@***>
scarb, can - Friday, March 09, 2001 at 04:12:44 (EST)
---
A firey redhead bassist! Her name leads me to believe she is German but yet, she may be French. I thought any name with "Auf" was German. Irregardless of her orgin, she rocks! The red fox can play with the best of them,including Black Sabbath!!
SCOTT SAROSK <***@***>
TOLEDO, OH USA - Thursday, March 08, 2001 at 19:10:14 (EST)
---
I just wanted to say how much I love and appreciate this site. Melissa is an amazing artist and woman. And it's comforting to know there are sites out there that show this. Thanks Melissa for a great musical and influential contributions to Hole and the Smashing Pumpkins..your talents will i"m sure continue to flourish and forever be remembered.
Candice <***@***>
Centereach, ny USA - Wednesday, March 07, 2001 at 05:10:51 (EST)
---
Does anyone know if melissa has a fan mail address? P.S Melissa if you read this, I just want to say thankyou.
piper <***@***>
USA - Wednesday, January 24, 2001 at 11:54:35 (EST)
---
Melissa has given me so much inspiration over the last couple of years.I was crushed when she left hole but she didn't dissapear so I'm happy and besides she seems happy where she is now so Im pleased for her.Cool site, but theres no-one in the chatroom, where is everybody!?!
piper <***@***>
england, - Tuesday, January 23, 2001 at 10:40:31 (EST)
---
i love melissa. i have so much respect for her and everything she does/is involved with. even though i would like to see her back with hole i know it will probably never happen,but whatever she does she will do well. this is my favorite site.
becca <***@***>
ft smith, ar USA - Monday, January 08, 2001 at 10:04:34 (EST)
---
Melissa, little canadian girl, wonderful sounds, rythms, and an angelic voice. She completed the pumpkins - mind you she's the only person who could have replaced d'arcy. Nice little website. Slow loading, but... I've seen a lot worse. Anyways...
Christian Roy <***@***>
Moncton, NB Canada - Monday, January 01, 2001 at 08:33:30 (EST)
---
I'm so happy to see there are so many other people out there into hole and the pumpkins.I play bass too and Melissa is my hero. It was real sweet of you to make her such a great website which she totally deserves. Your site kicks major ass. Rock on!
Lana <***@***>
USA - Monday, December 11, 2000 at 13:51:52 (EST)
---
well whoever hates the pumpkins on this list I feel utter sorrow for because they are one of the best bands of the 90's and they added so much to modern rock. hole was great too. where would rock be without bands like sp? boring!!!!!
jaron <***@***>
USA - Thursday, December 07, 2000 at 11:40:26 (EST)
---
Cool website on Melissa ! You have a really original page. Very well done.
Donna Grayson <***@***>
Los Angeles, CA USA - Wednesday, December 06, 2000 at 19:46:53 (EST)
---
I haven't posted here for far too long! My Melissa site got sorta sidelined and I've given up on it really. I'll just use it to add to my page of stuff I love which I'm building just now. Keep up the goodness Doctor Rock, because you know how dependent we are on Melissa.... I love you Melissaaaaaa....
Justine <***@***>
Edinburgh, Scotland - Tuesday, December 05, 2000 at 08:26:28 (EST)
---
this site is so cool, rock on melissa, don't go back to hole, I LOVE BILLY CORGAN!!!
chloe <***@***>
melbourne, vic australia - Tuesday, November 21, 2000 at 19:16:46 (EST)
---
does anyone know what melissa is doing right now? like what is her job occupation...now that she isnt with the smashing pumpkins or hole anymore......
stamata <***@***>
SURREY, BC CANADA - Monday, November 20, 2000 at 13:31:19 (EST)
---
Yo, this web site is wicked.... the pics are awsome. Keep it up! Kris xxx
Kris <***@***>
England - Saturday, November 11, 2000 at 09:10:58 (EST)
---
do you have boy friend? Who? do you like the latin boys? i´m sorry, in don´t speak english
sergio bravo uribe <***@***>
tuxtepec, oaxaca mexico - Wednesday, November 08, 2000 at 14:06:52 (EST)
---
great
bernie
USA - Tuesday, November 07, 2000 at 09:56:49 (EST)
---
salut doctor rock, ca va, cest top website, cest bon !!!
lmh <***@***>
terrbile stae USA...er no - Sunday, November 05, 2000 at 08:12:46 (EST)
---
salut doctor rock, ca va, cest top website, cest bon !!!
lmh <***@***>
terrbile stae USA...er no - Sunday, November 05, 2000 at 08:12:21 (EST)
---
Melissa is my hero!! I play bass as well and i strive to be like her!! I think she was amzing in Hole and the Pumpkins, but i think she should go back to Hole and make another amazing album!! Congrats!!! if anyone wants to email me to talk about good music go for it!!!
Sabrina <***@***>
Canada baby!!!! - Saturday, November 04, 2000 at 09:02:48 (EST)
---
this is a very interresting web sit. It has a nice and gothic look to it.
bower b. <***@***>
Norwod, MA USA - Friday, October 20, 2000 at 12:12:42 (EST)
---
i love this site.dont stop doing it, this is the best melissa site there is right now. melissa is my bass goddess and i think that she should go back to hole but if she is happy then so am i.
rebecca <***@***>
ft.smith, ar USA - Tuesday, October 17, 2000 at 12:48:39 (EST)
---
melissa, i have loved you for two and a half years. if you ever read this, i want to tell you that i love you. you are a beautiful and talented bassist. you deserve all of the fame in the world.i know all of your songs by heart on the bass and i'm still waiting for that moment when i get the amazing opprotunity to meet you. i love you.
nick <***@***>
red wing, mn USA - Sunday, October 15, 2000 at 12:55:38 (EST)
---
I want to sign the guestbook just because I want to say that during the SP concert in Utrecht Holland I've become a real Melissa freak, sorry........ Can anybody help me ?
Joost van Ree <***@***>
Rotterdam, Holland - Tuesday, October 10, 2000 at 21:18:27 (EST)
---
i love you so much for making this page. Melissa is my bass goddess and i am glad to see that she is appreciated. She kicks so much ass and so does this page
rebecca <***@***>
ft.smth, ar USA - Thursday, October 05, 2000 at 11:01:03 (EST)
---
Melissa is surely the most beautifull, sexy and talented bass player I´ve ever seen. I´ve fallen in love at first sight. She´s my lifetime inspiration.
Luk Auf Der Maur <***@***>
São Paulo, SP BRASIL - Tuesday, September 26, 2000 at 11:15:27 (EST)
---
I LOVE MELISSA!!!!!! And if you do ever see this Melissa, I would jus like to say that I fell out with Courtney Love over you yesterday. I was chatting to her and she was being so mean about my darling Melissa, I put her right. I love you Melissa. XXX
Justine <***@***>
Edinburgh, Scotland - Tuesday, September 19, 2000 at 09:56:53 (EST)
---
A world without Melissa would be, to put it bluntly, a bit shit, so rock on..... By the way, nice site amigo
TG <A.I.Taylor-***@***>
Exeter, UK - Tuesday, September 12, 2000 at 20:11:03 (EST)
---
I just thought I would sign your guest book Melissa, I like your band its pretty cool. Im sorry about the breaking up thing thats sad, very sad... Blessings to you and all who lurk hehe. Jen
Jenny <***@***>
USA - Friday, September 08, 2000 at 17:26:52 (EST)
---
GREETINGS FROM THE ANCIENT ONE . MY COMPLIMENTS ON YOUR SITE . I AM A PSYCHIC/METAPHYSICAL PRACTITIONER . I FOUND YOUR SITE VERY ENTERTAINING . THANK YOU .
The Ancient One <***@***>
hamilton, on CANADA - Monday, September 04, 2000 at 00:12:19 (EST)
---
This is a beautiful webpage, based on a beautiful talented soul. Keep up the amazing work.
*Shannen Starla* <***@***>
Oshawa, ont. Canada - Wednesday, August 23, 2000 at 12:19:12 (EST)
---
What an absolutely cracker page, devoted to an angelic rock girl. Love the wallpaper. Rock on.
bishop johnson <***@***>
richmond, ky USA - Monday, August 21, 2000 at 07:02:19 (EST)
---
Melissa, if you ever read this then let it be known that I hereby pledge my life and soul to you and the invasion of the U.S. by yourself and the hordes of Canada.I eagerly await your call to arms, and assure you that I shall do everything within my power to conquer Illinois in your name
Lord Phillip Aguilar <Lord ***@***>
Yorkville, IL USA - Saturday, August 19, 2000 at 11:35:10 (EST)
---
I am so in love with Melissa! She is so beautiful!! Yr page is so fucking rad. I love all the pictures u have. Keep up the good work k. This is one of the best fan sites I have ever seen! xoxo Marissa
Marissa <***@***>
hollister, CA USA - Friday, June 23, 2000 at 05:42:47 (EST)
---
I was on your page! Cool!
Mario <***@***>
Poysdorf, Austria - Sunday, June 18, 2000 at 06:28:02 (EST)
---
I simply adore Melissa. I love being a thin, pale redhead with curly hair that was born on March 17, too! I feel honored to look similair to such a beautiful and talented person like Melissa. I also love The Smashing Pumpkins, they are quite possibly my all-time favorite band, and when Melissa was part of the band I was very, very happy. I feel that she certainly fit in with them, and she is amazing! I love her so much!
Trish <***@***>
Jupiter, FL USA - Monday, June 12, 2000 at 12:07:20 (EST)
---
Im not really sure what to say here...... Melissa Auf De Maur rules the world, but only us at this website know that yet, ha! oh i know, Melissa, if your looking for a guitarist you can email me on ***@*** hehhehehhe, sorry if i sound an asshole, but you never know. well bye people, peace out. Ewan.
Ewan <***@***>
Caerphilly, Uk - Sunday, June 11, 2000 at 09:54:57 (EST)
---
The Fabulous Melissa is one of the best female bass players around today she's even better than most of the guy bass players! I really miss her in Hole now that she is gone there is something missing to it. Since the Smashing Pumpkins are unfortunatlly breaking up after 11 years i really think she should consider re-joining Hole...even if they do get another bass player Hole will never be the same! love ya Melissa! Your Fan Forever Amanda
Amanda <***@***>
Forty Fort, PA USA - Saturday, June 10, 2000 at 01:54:13 (EST)
---
Melissa's presence is so angelic that U can't help but to succumb. I'm a Makeup Artist and I worked on the "Malibu" video in Hermosa Beach for I will never forget. Melissa, U might remember me...I'm the one w/ the blue hair!!!
Manoj <***@***>
Los Angeles, Ca USA - Friday, June 09, 2000 at 17:24:27 (EST)
---
I think Mellisa is outstandingly beautiful and a fuckin amazing bass player. I'll just miss hearing her backing vocals in Hole, she has a great voice too. And now my beloved Pumpkins are splitting up where's she gonna go? She can come to my house and waste some time! OR she could return to hole which would be mighty cool. I think the latter is more probable..! love and fux, Will
Will
UK - Saturday, June 03, 2000 at 06:13:29 (EST)
---
Hello all. I recently met Melissa at a signing in New York City, and she was most pleasant one in the Smashing Pumpkins. She must have been signing for hours, but she still had time to chat. I'll remember that signing the most by Melissa's signature on my poster. She signed it with her typical XmadmX, but she also wrote my name with an exclamation point next to it (Art!) Anyway, we talked about her cats and I wished her luck on the upcoming tour. It was an awesome experience to go there and meet the whole band like that. I just want to add that this website is awesome. I like it a lot. It has very interesting pictures that I never saw before (among other things). If anyone is interested, my website has my drawings of the Smashing Pumpkins (including Melissa) so if anyone wants to check them out, it's located at http://community.webtv.net/silverstar33/JupitersTwilightRide Later and Rawk on! Art
Art <***@***>
Trenton, NJ USA - Thursday, June 01, 2000 at 09:12:14 (EST)
---
i love melissa. it all started when i first heard hole, i already loved courtney, but then i noticed they had a beautiful, talented, albeit overlooked bassist. and then i just started loving her even more than courtney...and that;s it. great site, by the way.
dana
- Saturday, May 27, 2000 at 07:20:30 (EST)
---
Melissa Auf der Maur is a huge inspiration to me and i hope when The Smashing Pumpkins end (which will be soon as i heard on MTV) she will return to Hole because even if they do get a new bass player there will always be something missing.
Amanda <***@***>
forty fort, PA USA - Saturday, May 27, 2000 at 06:23:37 (EST)
---
I was born on Melissa's birthday, march 17th, and I too have curly red hair, green eyes, and an appearence like hers. I also play bass and would like to say that Melissa has inspired me a great deal, and when she joined my favorite band, The Smashing Pumpkins, I was very, very excited. Seeing her with them live has been an extremely wonderful experience, she is marvelous. I am honored to share the same birth date with her and and resemble some look, too! Melissa's musical talents and photographic talents have inspired me a great deal.
Trish <***@***>
Jupiter, FL USA - Sunday, May 21, 2000 at 12:03:22 (EST)
---
Melissa is my biggest inspiration creatively. :)
Stefani <***@***>
Montreal, QU Canada - Wednesday, May 10, 2000 at 14:10:51 (EST)
---
I've been a huge huge Pumpkins fan for as long as I can remember, and was skeptical about the replacement of D'arcy, but I got to meet Melissa (Resume the Pose Tour) and saw her in concert here in Milwaukee (Sacred & Profane Tour) and I have to say that I've fallen in love with that little bass player. She's done a wonderful job and I know she'll continue to.
Nick Novak <***@***>
Milwaukee, WI USA - Sunday, May 07, 2000 at 17:29:19 (EST)
---
I just heard 'paradise city' covered by hole and you sound amazing. you should consider singing in a band of your own! love and luck, n.
Natalia <***@***>
Buenos Aires, Argentina - Sunday, April 30, 2000 at 16:02:53 (EST)
---
Best of luck with the pumpkins,or what ever you chose to do
Matt <***@***>
Lowestoft, Suffolk England - Monday, April 17, 2000 at 10:53:34 (EST)
---
lissy, we are all excited to see you on your upcoming tour.we also are happy to hear of your new home closer to us.we love you and hope to see you very soon.love from all of us . uncle mark
your loving aunt and uncle <***@*** or ***@***>
ma USA - Monday, April 10, 2000 at 07:57:05 (EST)
---
Melissa is the sweetest girl ever! If my love is a raindrop, the whole world would be flood. Can anybody help me to defeat my endless pain ?
Thoralf Reinhardt <***@***>
Germany - Sunday, April 09, 2000 at 05:41:18 (EST)
---
I was disappointed to see D'arcy leave the Pumpkins, but Mellisa does a more than exellent job at filling the shoes. The Pumpkins are the greatest band and now they have a great bass player, not to mention a goddess. She is sweet, beautiful, and talented. Im not sure if it is just the long red hair, but i think im falling for her. I met her in feb with the pumpkins and she was awsome. By the way great site.
Joe <***@***>
Sacramento, CA USA - Friday, April 07, 2000 at 17:57:32 (EST)
---
In creating this site, thou hast restoreth my faith in the human race. I am weary of the veneration given to musicians who only know three cords, and am greatly refreshed to find a site that honors one of the most skilled bassists in our time. Thank you once again,and long live Melissa
Lord Phillip Aguilar <Lord Buckwheat>
Yorkville, IL USA - Friday, April 07, 2000 at 14:21:32 (EST)
---
Hi! Couldn't find your email address... so I'll just post here. Pixie Dust will be back up and running on April 1st! Just finished everything up and I can't wait... I've been gone way too long. Take care.
Holly <***@***>
USA - Wednesday, March 29, 2000 at 14:10:44 (EST)
---
hi doctor rock,we should chat again soon.you're a very nice guy and i hope u can win the lottery someday.
eddie
singapore - Friday, March 24, 2000 at 18:04:44 (EST)
---
ey, great page. i really admire Melissa and this page has it all. Continue to update and long live Melissa!!!!!
Zylonzoo <***@***>
Philippines - Thursday, March 23, 2000 at 14:04:55 (EST)
---
I have seen Melissa twice in concert now performing with Hole and she is just amazingly talented not to mention a godess. I write this only a little while after finding out Melissa has left the band to join the Smashing Pumpkins and although I am disappointed she has left the band at least we will still get to hear her amazing playing. She is one of my favourite females and she ROCKS!!!!!
Brooke <***@***>
Rocky, qld Australia - Sunday, March 19, 2000 at 03:43:38 (EST)
---
Melissa is my favorite bass player. She shows that just cause you are a girl doesnt mean that you cant rock out!! She is another one of my idols and a huge influence on my life. Melissa if you ever get to read this i thank you for all of the inspiration you have given me through out the years!
Amanda <***@***>
fort fort, PA USA - Saturday, March 18, 2000 at 09:50:00 (EST)
---
I think the principal reason why we all love Melissa is that she is sweet and hot at the time. So, what else do we need? Keep on rockin' Auf Der Maur. We are waiting for your own musical work, although the Pumkins rules. (I'm sorry, my english really sucks)
Juan Martín Serantes Peña
USA - Tuesday, March 07, 2000 at 16:14:23 (EST)
---
I always thought the only good thing about Hole was Mel, and I was right! Now the worlds best band (SP) now have an AWESOME bass player! Smashing Pumpkins RULE!
Brayden <***@***>
Canberra, ACT Australia - Saturday, March 04, 2000 at 01:35:39 (EST)
---
Hi! No, I didn't "disappear into a labyrinthine webring or something". I've just moved and in the midst of reconstructing. In fact, if you wish to link to the new site you can do so by going to "http://www.chickpages.com/girlbands/constant_comment/banners.html". I had to move because the old site just didn't hold any interest for me as far as design goes, and even the address needed updating (since it's now a 50% Melissa + 50% Patty site). Well, take care, and check out the new site when it opens! P.S. Yeah, you're still the underground Melissa one, and I'm still the only one with guts enough to link you. Oh well...
Holly <***@***>
Olympia, WA USA - Friday, March 03, 2000 at 03:32:17 (EST)
---
hello there, I´m fall in love with mellisa auf der maur...
edgar garcia <***@***>
calexico, ca USA - Thursday, March 02, 2000 at 07:39:47 (EST)
---
For all u meliisa fans out there USE THE CHAT ROOM! Sure it´s got it´s fibs like kicking u out once in a while but auf der maur fans need to convene. Congrats on your site!
Patty <***@***>
- Tuesday, February 29, 2000 at 09:48:01 (EST)
---
I met the princess on tuesday and she is as wondeful as this site makes her seem
Jamie <***@***>
Gorham, ME USA - Friday, February 25, 2000 at 02:51:12 (EST)
---
MELISSA YOU ARE WONDERFUL,I HOPE WE WILL SEE ON TOUR IN POLAND(maybe!?)GREAT JOB DONE WITH PUMPKINS!!!
PAUL <***@***>
WARSAW, POLAND - Wednesday, February 23, 2000 at 10:18:09 (EST)
---
This is a beautiful site on the lovely talented sexy red headed glitter godess missy... anyone who is a missy fan give me an email:) take care.. beautiful pictures:)
*lovin' blissa* <***@***>
'shwa, canada - Monday, February 14, 2000 at 14:47:26 (EST)
---
melissa is the most beautifull women on earth, she's much better than 'darcy' from the smashing pumpkins
mm <***@***>
lichtervelde, europe belgium - Wednesday, February 09, 2000 at 02:07:08 (EST)
---
Great site=)........yes, of course I love Melissa
Rima <***@***>
CHICAGO, il USA - Sunday, January 30, 2000 at 18:00:12 (EST)
---
I just saw Melissa in concert and she really rocks!!!!!!!!!!!
violet <***@***>
USA - Saturday, January 29, 2000 at 05:28:21 (EST)
---
How sad it is that Melissa left Hole. I am in mourning. Fortunately it doesn't make her any less talented now she is in the smashing pumkins. It certainly doesn't make her any less damn sexy either. Pretty good site you got here too. Well done.
Canberra, ACT Australia - Tuesday, January 25, 2000 at 14:25:08 (EST)
---
I love Melissa, I dream and I hear her sweet voice. I'd like to meet her and make love to her in the way no else can do it. She's the woman,yeah!!! She's my biggest sex dream
Jim "the Dark" <***@***>
Somewhere, ?? México - Wednesday, January 19, 2000 at 13:12:56 (EST)
---
I just wanted to tell you that I really love this site and appreciate all the hard work that you put into it. Melissa is so talented and above all, she is a wonderful person. I wish her all the best with the Smashing Pumpkins and hope that someday she comes out with a solo project.
Laura Leishman <***@***>
Geneva, Switzerland - Sunday, January 16, 2000 at 07:08:20 (EST)
---
I really like Melissa, she is a great bassist, and even though she left my favourite band ever (Hole), I really hope she does well with Smashing Pumpkins coz she is cool and pretty and, um, ... yeah.
sugarcoma Star
England, England - Wednesday, January 12, 2000 at 11:55:24 (EST)
---
melissa Auf der Maur is the greatest bassist anybody has ever seen. I started playing because of her. she is beautiful, I am her BIGGEST fan, and I wish her luck with the Smashing Pumkins! Love always,
missworld7965 (*emily*)
mount laurel, nj USA - Sunday, January 09, 2000 at 09:23:59 (EST)
---
Hey Melissa rox! Missy Auf Der Maur is a very talented and beautiful bassist! I'm a huge fan of Melissa and now that she is with the Pumpkins...I hope to see her in concert soon. By the way, this site rox! Obviously...you did a fantastic job with the gallery....beautiful pictures. Okay...I'm psycho...but damnit....MELISSA IS BEAUTIFUL! Anyways...I will continue to dream on (hehe)and keep up the gr8 job on this site!
Reelist <***@***>
Somewhere in, CA USA - Monday, December 27, 1999 at 05:20:42 (EST)
---
I love Melissa, I think she's pretty, talented and I wish her luck on her proyects. She's the perfect woman, to bad she left Hole.... :-(
Jesse Fernandez <***@***>
Gurabo, PR USA - Friday, December 24, 1999 at 05:17:33 (EST)
---
Hello all! i saw The Smashing Pumpkins yesterday in concert and i really thought they rocked. i was about 15 feet away from the band and i thought Melissa made a good member for the band, except for the fact that it didn't look like she was part of them because she was so far off to the side. i really don't know much about Melissa, but she is, i guess, purrfect for the part. i miss D'arcy!!
May <***@***>
Chicago, IL USA - Wednesday, December 22, 1999 at 11:43:17 (EST)
---
I have no comments. My silence is my appreciation.
Liang <***@***>
Chicago, Il USA - Saturday, December 18, 1999 at 09:46:36 (EST)
---
Thanx for a great site!
K Larsson
USA - Tuesday, December 14, 1999 at 05:26:08 (EST)
---
Mellisa is a sexy person and I hope to see her around some where. I saw her in Spokane and she was looking good. She has the talent to make in whatever she wants to do so I wish her the best in whatever she does.
Nic <***@***>
cda, Id USA - Thursday, December 09, 1999 at 07:01:16 (EST)
---
This is a great Site!!! Really. It's tough getting info on Melissa (specially down here I Argentina), that's Why it please me very much to find site like this one. I'm not very exited about her quit Hole (specially since I hate the Smashing Pumpkins) but I think she needs to build herself a big carrier and follow her heart above all. So Melissa go for it!
Mariano Bonora <***@***>
Buenos Aires, Argentina - Thursday, December 02, 1999 at 13:10:48 (EST)
---
I was wondering if the owner of this site would PLEASE e-mail me i couldnt seem to find his/her e-mail addy and i really need to ask you something thanks you :)
Leslie <***@***>
Ewa Beach, HI USA - Monday, November 29, 1999 at 15:12:25 (EST)
---
Melissa Auf der Maur is sexy, intelligent to the core and exciting. She needs to move on and become herself and disconnect from Hole, she's much too talented to be in a band, I think and strongly believe she'd be great solo. I know she'll have the ambition one day to step out there and become more independent. Her quiting the band Hole, is just the begining to her future sucess. You'll ALL SEE ! I believe in her!
Levath <***@***>
San Francisco , CA USA - Tuesday, November 23, 1999 at 15:19:58 (EST)
---
I think you're fabulous. Don't you think it would be a good idea to have a male drummer (me; even though men are worthless). Then we could hang out. Ok, um...alright, uh... keep rockin'!
Blake Lindley <***@***>
Austin, tx USA - Thursday, November 18, 1999 at 07:00:56 (EST)
---
I really like Hole and I think that Melissa should stay in the band. It suits her more. She's too loud for Smashing Pumpkins! Corgan is meant to be a sexist brat. but anyway, I wish her luck.
Brunette <***@***>
UK - Thursday, November 18, 1999 at 01:04:43 (EST)
---
i just wanna say how much i love melissa and how much it sucks that she's left the band. i've just recently started playing bass and i someday aspire to have the same type of talent that the brilliant melissa posesses.
flo <3 <3 <***@***>
England - Tuesday, November 16, 1999 at 07:06:05 (EST)
---
Nice to see this.This is a very good site. Keep up the good work.
Ecofabrics <***@***>
New York, NY USA - Tuesday, November 16, 1999 at 01:00:32 (EST)
---
I LOVE MELISSA! AND I'M SO PISSED THAT SHE LEFT THE BAND. BUT I GOT THIS GOOD FEELING THAT THIS NEW DRUMMER HAD SOMETHING TO DO WITH HER LEAVING. BUT I GUESS ALL I CAN SAY IS THAT I LOVE YOU MELISSA AND WISH YOU THE BEST OF LUCK IN FUTURE YEARS, WHATEVER THAT MIGHT BE. AND I DO SWING THAT WAY (I'M A GIRL), AND I WOULD LOVE TO MAKE PASSIONATE LOVE TO MELISSA, IF GIVEN THAT CHANCE. I LOVE YOU MELISSA AUF DER MAUR.
Jake MacLachlan <***@***>
Palm Desert, ca USA - Saturday, November 06, 1999 at 17:00:43 (EST)
---
melissa is THE GODDESS!!! charismatic, talented and beautiful. and doctor rock, cld u keep me informed of the magazines in which melissa appears in? esp. the upcoming CK ads. thanks alot. once, aain, auf der maur rocks. thank god for her.
michele <***@***>
singapore, singapore - Thursday, November 04, 1999 at 00:22:38 (EST)
---
OOh, Hole Whole; fuzzy! Here hare hear? AH! Here hair here. I purport to be a player of bass too. I understand these things. It is Doctor Rock whom I admire. As the Great Drunk Poet of New Lambton says, "I don't know why but I don't know why". End of transmission.
Phage
- Wednesday, November 03, 1999 at 15:32:08 (EST)
---
I LOVE MELISSA AUF DER MAUR SO MUCH. SHE IS A GREAT INSPIRATION FOR ME SINCE I PLAY BASS. I AM ALSO REALLY INTERSSTED IN PHOTOGRAPHY AND WHEN I FOUND OUT SHE IS A PHOTOGRAPHER I WAS SO GLAD. SHE IS SO GODDAMN PRETTY AND TALENTED AND THIS PAGE KICKS ASS. IAM AM SO LUCKY TO HAVE SEEN HER IN REAL LIFE AT A HOLE CONCERT I WENT TO. TOO BAD SHE QUIT. ANYWAYS I LOVE HER LOVE FAERIE GIRL.
ERIN HUTCHISON <***@***>
AUSTRALIA - Saturday, October 30, 1999 at 21:33:38 (GMT-10)
---
HOLE is the insperation 4 me playing guitar since 10 and i have had a few bands . Hole is my faverite band and all thoe my band plays some ariginals , We always play Hole . There the best. Hole kick ass . p.s I love Courtney. p.s.s where can i buy hole video's? e-mail me please!
Sexy Matt <***@***>
Wellington, New Zealand - Wednesday, October 27, 1999 at 19:17:14 (GMT-10)
---
I am usually not one to gush about particular musicians, but Melissa is my personal role model. I play bass too and she has been a constant source of inspiration. On a lighter note, I'd just like to say that if I swung that way, I'd want to make mad love to Melissa :)
jenna <***@***>
Bergenfield, NJ USA - Tuesday, October 26, 1999 at 08:40:14 (GMT-10)
---
Great web page! Thanks for taking the time to collect all these pictures and articles and put them on the site. The site looks real good too! Thanks again.
Bozo
USA - Saturday, October 16, 1999 at 01:51:43 (GMT-10)
---
I'am a huge Mellisa fan and i just want to thank her for being a female bass player who kicks ass! Iam a bass too and i aspire to Mellisa. Keep up the good work dood!
Oddity <***@***>
Australia - Sunday, October 10, 1999 at 12:07:14 (GMT-10)
---
I'am a huge Mellisa fan and i just want to thank her for being a female bass player who kicks ass! Iam a bass too and i aspire to Mellisa. Keep up the good work dood!
Oddity <oddity>
Australia - Sunday, October 10, 1999 at 12:07:04 (GMT-10)
---
Nice site... I've linked you to both of mine, especially my ~new~ Melissa site. I like that you have archived all these pics in one place... far more than all of us other Missy sites. It's obvious that you love Mel a lot... not as much as me though! *laughs* Take care and check out my site... sign the guestbook, please! *smiles*
MelissAdM <***@***>
Olympia, WA USA - Sunday, October 10, 1999 at 02:02:03 (GMT-10)
---
Melissa i met you at the Perth Big Day Out And u Rock And u inspired me so much i have one 7 awards in Bass Guitar and i have only been learning for 2 and a half years so thank you and u Fucking Rock!!!!!!!
Piglet <Don't have one>
Perth, W.A Australia - Thursday, October 07, 1999 at 22:27:20 (GMT-10)
---
WOW is all i can say, this ia gorgeous page about my favourite rocker, melissa auf der maur!!! please visitmy band's website, as we also have a great canadian redhead girl bassist!! lots of luv, xoxo jenny
miss jenny vegas <***@***>
toronto, on canada - Thursday, September 30, 1999 at 04:37:49 (GMT-10)
---
i was just on the internet looking for hole videos and i found your site and even though courtney is my fave hole member i love melissa too and think she is beautiful also.i have seen other melissa pages before and i have to say that yours is the best!!i love the videos and your page is great!!
caitlin harrington <***@***>
melbourne, australia - Tuesday, September 28, 1999 at 13:28:15 (GMT-10)
---
I couldn't find your email either. Feel free to email me, I have a question. Your page kick ass. I'M SOOOO SAD BECAUSE MISSY LEFT HOLE... *cries*
Gold Dust Woman <***@***>
Mölndal, Sweden - Thursday, September 23, 1999 at 05:59:36 (GMT-10)
---
Oh my god, this page kicks so much ass...it's so cool...i tried to find your email address on here, cuz i had to ask you something, but i couldn't....if youe ever get a chance, email me, cuz i have to ask you something..thanks for brightening up my day with this kick ass page.
aaron. <***@***>
St. Marys, PA USA - Monday, September 20, 1999 at 12:23:41 (GMT-10)
---
HOLE s obviously my favorite band. Keep making great music and inspiring woman like me to follow their hearts and not listen to the crap others might say. I have been to 2 concerts and can't wait for more. When are you coming to San Francisco again? I LOVE YOU GUYS.
Jen <***@***>
Rohnert Park, CA USA - Sunday, September 19, 1999 at 16:55:00 (GMT-10)
---
Hi!I'm a young talented bassist and singer too! If you're pretty and intelligent enough,dear doctor rock,you can find in me your too far Melissa! P.s. I'm joking! P.s.2 I prefer the savage Courtney Love!!!
Denise <***@***>
Colleferro, Italy - Monday, September 13, 1999 at 19:30:32 (GMT-10)
---
i couldnt get to your video section. :( this page rox BTW. even more if i could see the videos.
the girl who likes cake
USA - Sunday, September 12, 1999 at 06:26:02 (GMT-10)
---
this website fuckin rocks " Courtney love & melissa are fuckin hot! they ROCK!"
TONY <***@***>
whittier, ca USA - Saturday, September 04, 1999 at 08:22:28 (GMT-10)
---
i love you melissa i also wanted to say that out of all the pages dedicated to melissa this is the best i have been looking for info on her background but it seems that a "biography of her" consists of information about her eye and hair color thanks for a great page
kat
tulsa, ok USA - Thursday, August 26, 1999 at 07:59:02 (GMT-10)
---
I love melissa! Please visit my site and sign the guest book. Love you Melissa. Beaucoup de baiser, je t'aime. Love, Melissa
Melissa L. Melody <***@***>
seattle, wa USA - Wednesday, August 18, 1999 at 13:37:37 (GMT-10)
---
MELISSA, I LOVE YOU!!!
VERENA <***@***>
SALZBURG, A AUSTRIA - Tuesday, August 10, 1999 at 20:22:00 (GMT-10)
---
must add a small French word to see whether your trick can really translate of French into English. Good luck. Doctor Rock
Newcastle, Australia - Monday, August 02, 1999 at 14:32:00 (GMT-10)
P.S I hate tests
---
Je dois ajouter un petit mot en francais pour voir si ton truc peut vraiment traduire de francais en anglais. Bonne chance.
Annie
USA - Monday, August 02, 1999 at 13:53:37 (GMT-10)
---
Hey, thanks for signing our guestbook. I loved the commic, because it's absolutely irrelivant to someone outside Montreal. The cartoonist is a household name in Montreal and was good friends with Melissa's dad. Anywho, great site! Kudos...
Annie <***@***>
Montreal, qc CANADA - Monday, August 02, 1999 at 13:49:23 (GMT-10)
---
Just a note to say that Melissa auf der maur is super cool and your site absolutely rocks........so far it has been the best collection of casual,live and publicity pics i have seen of her yet! yee-haw
Kim <***@***>
Geelong, VIC Australia - Tuesday, July 27, 1999 at 16:38:24 (GMT-10)
---
The first time I saw Melissa play I noticed her charisma instantly. She is very inspiring for us girl guitarists and I admire her very much. I wish her the best of luck with Hole and any other projects she embarks upon. It is my dream to achieve one quarter of what this talented and radiant woman has. Awesome Web page!
Cat <***@***>
Canada - Saturday, July 24, 1999 at 07:19:22 (GMT-10)
---
Melissa Auf Der Maur is soooo HOT! I love the outfits she wears, those knee high red boots, little shorts and fishnet stockings...she is so sexy.
Billy Corgan
- Saturday, July 24, 1999 at 05:09:35 (GMT-10)
---
i love mellisa auf der maur. she is so beautiful in many ways. i have to agree with dr.rock. i like this page becuz this hole page is dedicated to tha most beautiful female rocker out there, mellisa. i wish that i can meet her. my walls and ceiling are covered with her posters and pictures so that i can look at her hot body and beautiful face for 24 hours and seven days a week. cool page, dr. rock. tankx.
john stephens <***@***>
new iberia, LA USA - Friday, July 23, 1999 at 03:04:32 (GMT-10)
---
If you can get some pictures of Hole in Toronto on Canada Day (July 1) 1999, you are in for a treat. I never have seen Melissa look so fine. Up until that show, I always the Courtney was the one. WRONG. Melissa looked HOT in her little shorts and top with the Canadian flag printed on them (she is Canadian). WOW !!!
Greg <***@***>
Toronto, On Canada - Wednesday, July 14, 1999 at 04:05:56 (GMT-10)
---
I never thought of playing bass till Melissa. I have similiar style of clothing, so it makes me feel in style or whatever. Basically it comes down to, she ROCKS, and I hope to be as good as her someday. Oh ya, she's also the best looking girl ever.
Melissa D. <***@***>
NH USA - Thursday, July 08, 1999 at 12:31:00 (GMT-10)
---
I LOVE melissa, she is absolutely gorgeous. and i LOVE this page, it is the best page of melissa i have ever seen
Nicole <***@***>
Maple Shade, NJ USA - Tuesday, July 06, 1999 at 14:08:05 (GMT-10)
---
Melissa, your hair is on fire!
Brian
San Jose, CA USA - Tuesday, July 06, 1999 at 07:19:45 (GMT-10)
---
HOLE KICK ASS!!!
Mimsy <***@***>
Auckland, NZ - Friday, June 25, 1999 at 16:39:51 (GMT-10)
---
I found a very interesting article about Melissa in the May 29 1999 issue of Kerrang Magizine.
Caroline <***@***>
San Diego, CA USA - Thursday, June 24, 1999 at 06:37:40 (GMT-10)
---
Hole is the phatest mofo-ing group! Courtney and Melissa rocked the house down!
Alexandra Khan <***@***>
Atlanta, GA USA - Monday, June 21, 1999 at 09:52:27 (GMT-10)
---
melisa auf der maur recharged my soul!!!
steve <ancientharmony.com>
atlanta, ga USA - Thursday, June 17, 1999 at 22:00:13 (GMT-10)
---
fucking good videos. i've been here for hours watching them. missy rocks, as do the rest of hole!
the girl who likes cake <***@***>
USA - Thursday, June 17, 1999 at 06:17:56 (GMT-10)
---
Jag vill bara säga att Hole är en av de bästa grupperna som någonsin funits. Jag vill bara säga I LOVE HOLE!
Maja <***@***>
Halmstad, Sweden - Thursday, June 03, 1999 at 23:14:25 (EST)
---
Just wanted to say that this is a way cool sight. Lots of info, pics, and the Real Audio/Video stuff is excellent. Definately the place to get my fix of our favorite rock goddess.
J. Aaron Poole <***@***>
Columbus, Ga USA - Wednesday, June 02, 1999 at 16:06:20 (EST)
---
Hole rocks MLH (Michelle Love Harrison:Courtney Love ) Rulz and Mel Auf Der Maur is the best Luv Mack Tyler
Mackenzie Tyler <***@***>
Sydney , NSW Australia - Sunday, May 30, 1999 at 10:31:44 (EST)
---
Hi , your page is brillant , we love melissa as well , and i have just been scanning millions of pictutures the last cpl hrs , for our page Sugarless Kisses bye ,
Maria <***@***>
USA - Friday, May 28, 1999 at 14:05:12 (EST)
---
That was fukt up! I think Melissa is one of the most intelligent people i have ever spoken to in my life- very well mannered and her father helped me through a rough time, I cannot express in words the gratitude that I have. I love them both, people like them make life worth living. thank-you- Gillian Sittmann
Gillian Sittmann <***@***>
Montreal, canada - Thursday, May 27, 1999 at 22:30:57 (EST)
---
salut j'espere que sa va bien.?Moi non pas fool.Je viend=s d'aprendre que le show du 4 juillet edge fest ou hole etait en premier e partie viens d'etre annuler . Melissa , tu viens de Montreal , c'est quand meme une ville cool , pourquoi vous ne venez plus ici . J'ai manquer le show de Hole en "94" et sivous saviez la joie que j'ai eu en allant acheter mon billet la journer que j'ai su que hole venais a montreal........Et la deception que j'ai ressentis en apprenant que vous n'y venez plus....surement que jamais tu ne liras mon message maissi oui ,pense y et venez a montreal faire un show s,v.p. Clemence desrochers
clemence <***@***>
montreal, canada - Wednesday, May 12, 1999 at 10:01:47 (EST)
---
I love Melissa! Grrl bassists rock!
jessicka <***@***>
hell, TX USA - Saturday, May 01, 1999 at 08:55:54 (EST)
---
I LOVE this page I love Melissa and i'd like to ask a ? were can I get a copy of the interviews (the Melissa Mod stuff) and others I'd love to get it PLEASE email ASAP.... Thank You
Chris Bourgeois <***@***>
Canada - Sunday, April 04, 1999 at 11:30:40 (EST)
---
---